WHO WE ARE
So, you've met the owl . . . with the attitude. He's our Wine Snob* ambassador.
He does a pretty good job, don't you think? That feather-do, that bowtie.
Especially that eye-roll.

What the owl is trying to say is, you don't have to be a wine snob to enjoy wine. You don't need to use words like "velvety tannins" and "hint of lychee on the nose" to describe a wine. And there's no wrong answer to the question,
"What do you think about this wine?" The only thing that matters is whether you like it.

That's why we're Wine Snob* with an asterisk: Your taste buds. Your rules.
So, don't let the wine snobs get you down!

(If you are a wine snob, that's okay, too. It is pretty fun to say "velvety tannins." Embrace that inner wine snob, but try not to impose it on everyone around you - when you say you think our Tempranillo tastes faintly like leather saddle, don't expect anyone else to know what you're talking about. After all, they didn't go saddle-licking with you last weekend.
And, if you get a strange look, just know that you're the odd one.)
OUR STANDARDS
When we buy a bottle of wine to drink, our priorities are taste, quality, and cost. We want a bottle of wine that's yummy, interesting, unadulterated, and reasonably priced. And, that's what we want to offer to you.

So, we work to produce wines that we would look forward to sipping around a camp fire or enjoying with our favorite meals, and - most importantly - that we think taste above their price point.
We put quality first and work with growers who use sustainable and organic farming practices.
We just want the grapes and the barrels to do their thing.

Of course, in addition to having yummy, high-quality wine, it's nice to have a pretty label.
So, thank you, feathered friend, for gracing us all with your presence.
OUR WINES
Our wines are available for purchase in our tasting room in Glen Ellen, California.
If you'd like to have wine shipped, please contact us at 707-931-8424 or email linz@snobbyowl.com.
Please see our Shipping and Returns page for our general rates or our Club page for special club member rates.

2022 Chardonnay Musqué
This isn't your average Chardonnay. It's So. Much. More. Fun. Made from clone 809, a highly-aromatic musqué variation of Chardonnay, and stainless-steel fermented, this beauty has crisp, not-so-subtle hints of blood orange, white peach, apricot, and jasmine. "Chardo-YAY!" is more like it!
LEARN MORE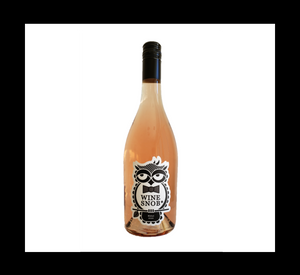 2020 Rhôsé
So, you like rosé? Dry, crisp, pretty rosé? Grapefruit-y, watermelon-y, rosebud-y rosé? Pacific-breeze, Sonoma-sun rosé? Springtime, summertime, all-year-round-time rosé? So do we. Cheers!
LEARN MORE
2020 Pinot Noir
We thought we knew what a moody Pinot was.
Then along came this beauty, so delicate yet strong.
Black cherry and tea, raspberry and peony...
"We love you! We love you!" we sang all night long.
We thought we were friends;
we thought she loved us!
But, "don't call me, I'll call you,"
was her only response.
Learn more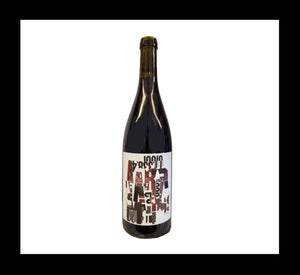 2021 Pinot Noir
Owls are awesome. So is this Pinot, with hints of strawberries and cream and a bit of peony. And our Wine Snob* family—it's awesome, too. Case in point, the front label is a collage of drawings created by our club members at our Spring '22
release party. Cheers to you, friends! And to the owls! Part of the proceeds from sales of this wine will be donated to organizations dedicated to owl
research and conservation.
LEARN MORE
2020 Lorenzo
The story goes that Linz's grandpa used to help her great-grandpa make wine in the basement of their house way up in northern Wisconsin in the late 1920s and early 1930s. Nobody's sure what kind of grapes were used, but they came on a train all the way from California. We've picked up where they left off, and we want to say cheers to her Italian roots and bit of family winemaking history with this wine of 100% Sangiovese, a quintessential Italian grape. Salute!
LEARN MORE
2021 Carménère
The name of the Carménère grape is derived from the French word "carmin," which means crimson, and that about sums it up. Bright crimson autumn leaves on the vines. Deep crimson hue in the glass. And lingering crimson aromas and flavors—think raspberry sauce and ripe cherries—with hints of peppercorn, vanilla, and granite. Carménère vines are scarce in California, but we found a single row tucked into a beautiful vineyard in Glen Ellen. Yep, just one red row, but lucky you, we're in the mood to share!
LEARN MORE
2019 (T)rebelrouser
So, a bunch of raspberries are hanging out when it suddenly starts raining blueberries and cherries - they're everywhere! The berries all huddle together until the downpour subsides into tiny chocolate sprinkles. As the berries gather up the sprinkles, a peppercorn falls from the sky and bursts into a glitter shower of black and white pepper. Then the sun comes out and everyone's happy. That's what this wine tastes like.
Learn More
2020 Puma-1
Puma-1, or P1, was the first mountain lion tracked in the North Bay by Audubon Canyon Ranch's mountain lion research and education project, Living with Lions. She lived to be an incredible 16 years old, and we were lucky enough to catch a glimpse of her on the Wine Snob* vineyard trail camera on a few occasions. This wine celebrates her long reign as Glen Ellen's feline matriarch.
LEARN MORE
2019 Puma-5
After the Wine Snob* vineyard trail camera captured a photo of Puma-5, the fifth mountain lion tagged for tracking by Audubon Canyon Ranch's mountain lion research and education project, Living With Lions, we were inspired to create this Bordeaux-style blend and help support the project. The blend consists of five varietals (66% Cabernet Sauvignon + 22% Merlot + 11% Petit Verdot + .5% Cabernet Franc + .5% Malbec) from five Sonoma Valley vineyards within P5's roaming territory. A portion of the proceeds from every bottle sold will be donated to Living With Lions.
LEARN MORE
Night Owl
What do we have here? A perfect little nightcap. This beautifully smooth, rich ruby dessert wine is made with Zinfandel from 100-year-old vines and has hints of blackberry, black cherry, and spice. Sip it under the stars with the other night owls.
LEARN MORE
WHAT'S NEXT
Hmmm . . . the owl seems to be particularly interested in something bubbly.
Follow @snobbyowl on Instagram and Facebook to find out!
CONTACT US
If you have any questions, comments, or trade inquiries, please email Linz at linz@snobbyowl.com.
CONTACT US